Key Facts
Human resources development for improving financial literacy of school and university students and adult population
Federal Methodological Centers for teachers, professors, consultants-methodists with regional network all over the country have been created on the basis of leading universities (Moscow State University, National Research University Higher School of Economics, Russian Presidential Academy of National Economy and Public Administration, Financial University under the Government of the Russian Federation).
Thanks to the Project, by August 2018, about 12 000 financial literacy tutors have been trained. By the end of 2019, more than 20 500 educators in the field of financial literacy will be trained. Thus more than a half of Russian schools will have their own financial literacy trained teachers.
1 500 methodists were trained for general educational and professional establishments.
More than 5 000 financial literacy consultants-methodists working with the adult population were trained. Until February 2019, not less than 6800 financial literacy consultants-methodists working with the adult population will be trained.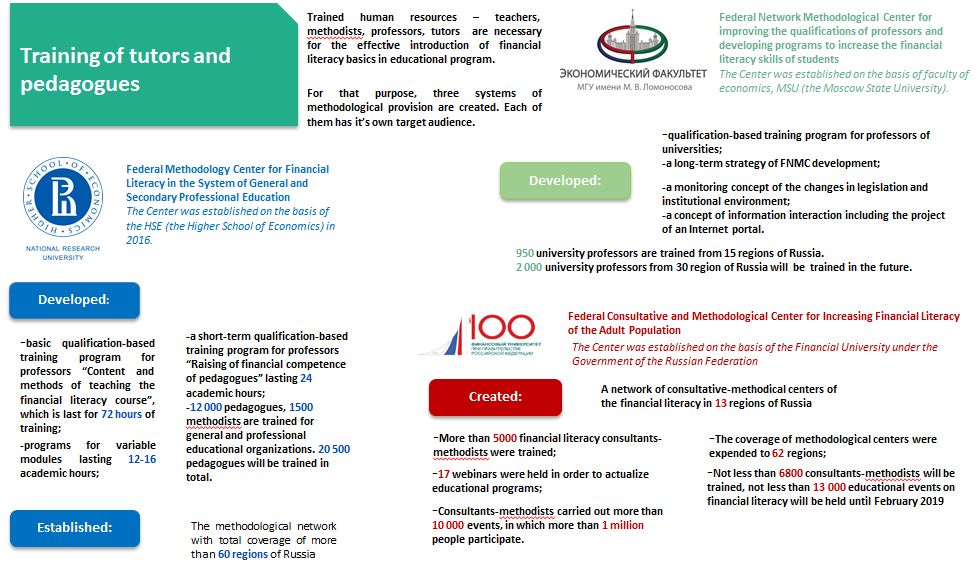 Educational programs and informing of the population
There were created 17 learning and methodology kits (83 books) for schools (2nd to 11th grades), orphanage and boarding school students, and for institutions of vocational secondary education. The study kits include study guides for students and teaching materials for their parents and teachers.
Testing of educational programs for bachelors and masters (of non-financial faculties) in 15 regional universities were conducted successfully.
30 educational modules covering a variety of topics were created for various age groups of adult population.
All-Russian events devoted to financial literacy are held annually: All-Russian Savings Weeks directed at adult population; All-Russian Financial Literacy Weeks for Children and Youth.
The number of participants of the Savings Weeks increased from 150 thousand people in 2015 to 550 thousand in 2017. 2.5 million visitors took part in the events of the Financial Literacy Weeks for Children and Youth Week in 2018, which is almost twice more than in 2017.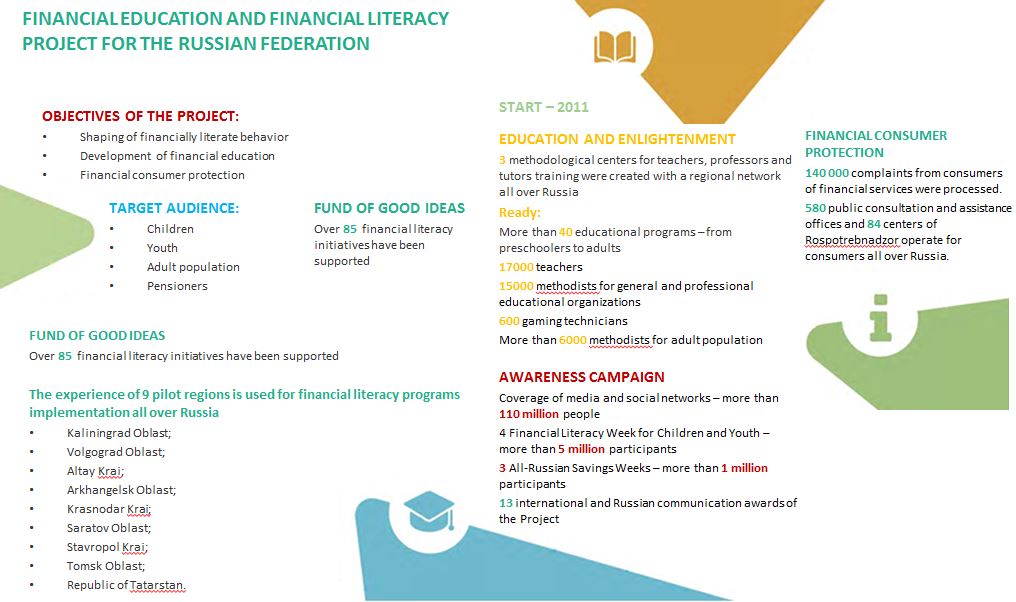 Improvement of financial consumer protection
Federal Service for the Oversight of Consumer Protection and Welfare (Rospotrebnadzor) operates 580 public assistance offices and 84 centers where citizens can receive expert help relating to financial services consumer rights protection.
The Good Ideas Fund is a mechanism that allows, on a competitive basis, to support initiatives in the field of financial literacy and the protection of the financial services consumers rights. Over 80 initiatives have been supported, including the projects focused on vulnerable groups of population.
170 interactive information booths have been installed in all Russian regions, providing information on the core financial services and consumer rights. More 7,5 million information brochures devoted to responsible usage of all types of financial services have been prepared and distributed in collaboration with Rospotrebnadzor in all regions of Russia.
The website хочумогузнаю.рф (wantcanknow.rf) is created to present comprehensive information on the rights of consumers of financial services, legislative framework, and interactive materials devoted to financial services usage for self-education.
Mechanism of regular assessment and informing of population about consumers rights protection are created:
Annual public reports of Rospotrebnadzor "On the status of consumer rights protection in the financial sector";
Independent reports of financial organizations that are published twice a year.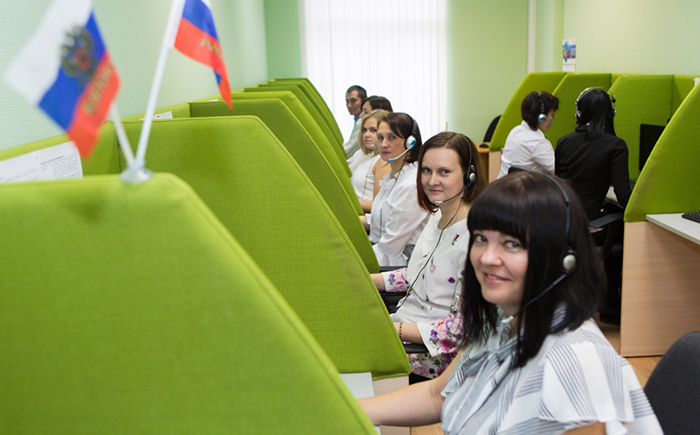 Financial Literacy Weeks for Children and Youth
Every year in spring the Ministry of Finance of Russia arranges All-Russian Financial Literacy Weeks for Children and Youth. In 2018, more than 2.5 million people took part in the Week. The program of events was full of games, quests, performances, lectures, master classes, competitions, excursions to financial organizations. Representatives of the Ministry of Finance of Russia, Rospotrebnadzor and financial organizations take part in the opening of the Week every year.